See on Scoop.it – Renewables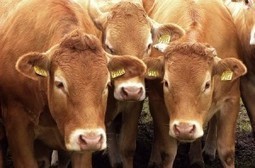 Anaerobic digestion is a unique treatment solution for animal wastes as it can deliver positive benefits related to multiple issues, including renewable energy, water pollution, and air emissions. Anaerobic digestion of animal manure is gaining popularity as a means to protect the environment and to recycle materials efficiently into the farming systems.
Waste-to-Energy (WTE) plants, based on anaerobic digestion of cow manure, are highly efficient in harnessing the untapped renewable energy potential of organic waste by converting the biodegradable fraction of the waste into high calorific gases.
The establishment of anaerobic digestion systems for livestock manure stabilization and energy production has accelerated substantially in the past several years. There are thousands of digesters operating at commercial livestock facilities in Europe, United States, Asia and elsewhere. which are generating clean energy and fuel. Many of the projects that generate electricity also capture waste heat for various in-house requirements.
See on www.ecomena.org