See on Scoop.it – Renewables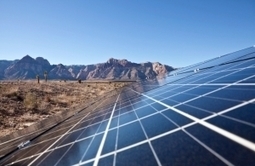 There is a growing Interest in utilization of solar energy in Saudi Arabia as the country is blessed with abundant solar flux throughout the year. Saudi Arabia has one of the highest solar irradiation in the world, estimated at approximately 2,200 thermal kWh of solar radiation per square meter. The country is strategically located near the Sun Belt, not to mention wide availability of empty stretches of desert that may accommodate solar power generating infrastructure.
Salman Zafar's insight:
The kingdom is planning to add an additional 41 GW of solar power by 2032, with 16 GW to be generated by photovoltaics and 25 GW by solar thermal power plants. One of the major achievements was the establishment of 3.5MW PV project at the King Abdullah Petroleum Studies and Research Center.
See on www.ecomena.org