See on Scoop.it – Waste Waste Everywhere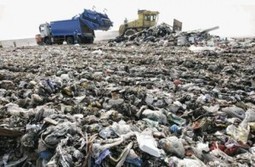 The prevalent solid waste disposal method in Kuwait is landfill burial. Despite being a small country, Kuwait has astonishingly high number of landfills. There are 18 landfills, of which 14 sites are closed and 4 sites are still in operation. These landfills act as dumpsites, rather than engineered landfills.
Salman Zafar's insight:
Most of the landfill sites have been forced to close, much before achieving their capacities, because of improper disposal methods and concerns related to public health and environment. Due to fast-paced industrial development and urban expansion, some of the landfills are located on the edges of residential, as is the case of Jleeb Al-Shuyoukh and Al-Qurain sites, endangering the lives of hundreds of thousands of people.
See on www.bioenergyconsult.com