See on Scoop.it – Waste Waste Everywhere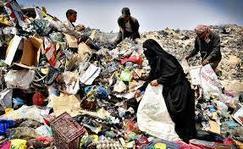 Iraq is estimated to produce 31,000 tons of solid waste every day with per capita waste generation exceeding 1.4 kg per day. Baghdad alone produces more than 1.5 million tons of solid wastes each year.
Salman Zafar's insight:
Rapid increase in waste generation production is putting tremendous strain on Iraqi waste handling infrastructure which have heavily damaged after decades of conflict and mismanagement. In the absence of modern and efficient waste handling and disposal infrastructure most of the wastes are disposed in unregulated landfills across Iraq, with little or no concern for both human health and environment.
See on www.ecomena.org