See on Scoop.it – Renewables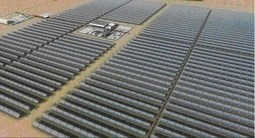 The clamor for renewable energy has increased significantly in the GCC in recent years due to concerns regarding global warming and depletion of fossil fuels. Regional countries whose environments are extremely intensive in terms of the carbon emissions and energy usage, like the United Arab Emirates and Saudi Arabia, have taken concrete steps and developed strategies to produce clean energy on large-scale to lower carbon footprint and foster sustainable development.
Salman Zafar's insight:
Large-scale investments and new sustainable development projects are expected to transform GCC into the ultimate destination for clean energy technologies which will not only lower carbon footprint of the region but also reduce the cost of solar, wind and other renewable energy systems.
See on www.cleantechloops.com